What happens when students attend ISD's STEAM Camp? They get an itch for more! Three students who were exposed to science, technology, and art concepts during the past two summers, including hands-on design with a 3D pen that allows students to create plastic designs in the air, joined forces to express why ISD deserves to win a full-blown 3D printer (a MakerBot Replicator, valued at $2,899.00). They showed off 21st Century Skills as they developed a game plan, collaborated, and applied technology effectively, linking their polished youtube video to the school's application on the Thingiversity's contest website. Score! The Makerbot printer, accessories, and plastic filament arrived! Above is Lillie Brown, video producer, and collaborators/video stars Loden Hoyt (left) and Ian Fraas (right). See their entry here.​ See Lillie's follow-up Thank You video here.
"It ain't what they call you, it's what you answer to." ― W.C. Fields Felix will soon be answering to "Tech whiz," "3D champ," and "brainiac" after successfully completing the design, troubleshooting, editing, and printing skills that resulted in an awesome 3D namesake during Mr. Dan Snyders' AutoCAD class. With the recent addition of a 3D printer, students who have mastered basic computer-assisted design techniques now get the satisfaction of actually creating three-dimensional replicas of their efforts. Stay tuned for additional student projects!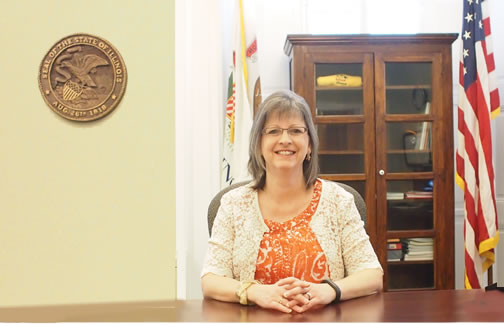 Governor Rauner's Office and the IDHS announced that Serena Preston has accepted the temporary responsibility of ISD superintendent in addition to her position as superintendent at the Illinois School for the Visually Impaired while an extensive search is conducted to permanently fill the position.
Boys' Track Team National Champs
Selected 2015 Team of the Year by the National Deaf Interscholastic Athletics Association, this marks the eighth national championship the boys have earned since 2002. Coaches from 34 deaf schools across the nation submitted athletes' best times and distances throughout the season. Athletes earn points based on where their times and marks rank compared to other athletes. First-place individual finishers earning All-American status include Andre Murphy/100 m dash; Jordan Manges/200 and 400 m dash; Jamal Garner/110 m high hurdles, shot put and high jump (tied for first); and the 4x100 m relay team.